APPOINTMENT – INTELLIGENT APPOINTMENT ALLOCATION
VIRTUALQ'S INTELLIGENT APPOINTMENT MANAGEMENT FOR INTEGRATED SERVICE
With the virtualQ appointment system – an intelligent appointment scheduler – you enable your customers to book appointments with customer service agents via IVR, Web or your company app. Your customers can choose from a selection of available times and schedule a consultation with one of your agents. This gives your customers the option to speak to a service agent about less urgent matters at a later time that suits them – all without waiting.
The intelligent appointment scheduler can be set up on your service hotline, and integrated within your homepage or your smartphone app. Thanks to scheduled appointments, you can ensure constant employee utilization in addition to a positive customer experience.
VirtualQ schedules appointments through its intelligent, learning algorithms, which detect the time slots in your call centers when call volume is low, and creates pre-scheduled telephone appointments in this low-volume periods.
Virtual queues optimize your day-to-day business by smoothing out call volume spikes during the day, allowing you to react to special situations where call volume is significantly higher. The virtualQ intelligent appointment system is particularly useful for customer requests that are less time-sensitive.
By combining both solutions, you can satisfy your customers' needs and ensure a predictable, constant workload for your employees.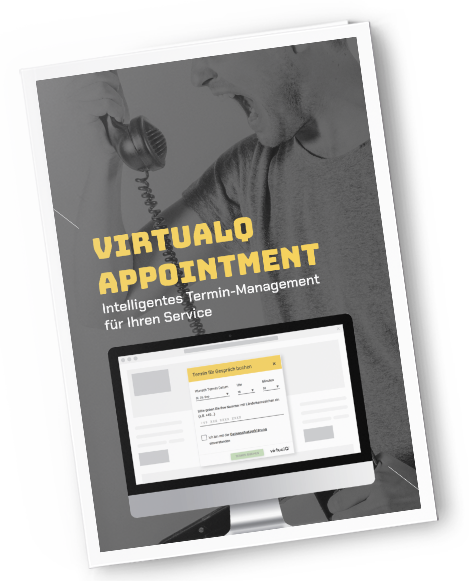 ALL AT A GLANCE:
INTELLIGENT APPOINTMENT ALLOCATION FOR YOUR SERVICE – CLEAR & COMPACT
Get access to all important information about the wide range of application and find all advantages of virtualQ´s Appointment Service.
YOU HAVE A CHOICE OF INTELLIGENT APPOINTMENT APPROACHES
CHOOSE BETWEEN TWO OPTIONS:
Caller First
Thanks to virtualQ technology, you do not have to allocate agents for scheduled appointments. Your customers are called up according to virtualQ logic at their desired time by the virtualQ service via SMS or dialer, and forwarded as an inbound call to the next available agent. The caller-first option allows your agent assignment process to remain unchanged, ensuring maximum employee utilization without idle periods.
Agent First
Your highest priority is to ensure that your customers will always be connected to a service agent the moment they arrive for their scheduled appointment. With the agent-first option, we allocate an agent for your customer and ensure they reach their appointed service agent at their scheduled time.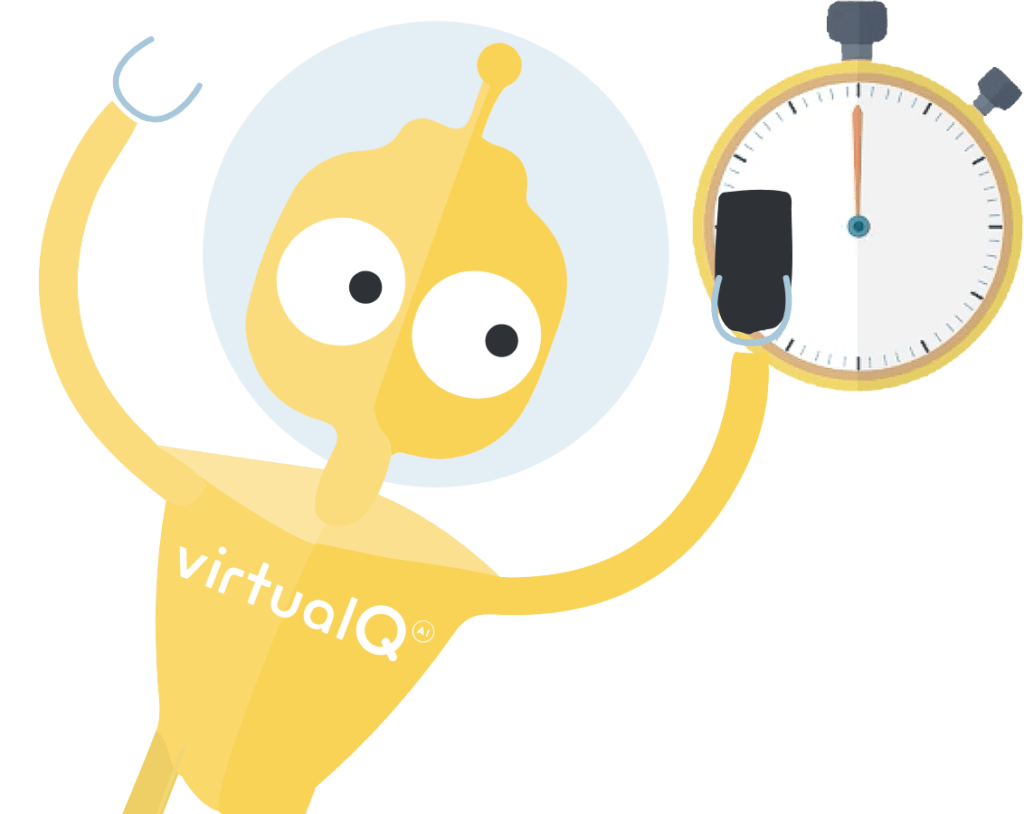 APPOINTMENT VIA IVR!
EXCELLENT SERVICE – FAST AND STRAIGHTFOWARD
The charming virtualQ Assistant offers calls to your service center directly on the line for a variety of appointments. Move call volume peaks to more idle periods and ensure a first-class customer experience. Not only do your callers benefit from this customer-friendly service offer, your agents will also experience conversations with a noticeably better attitude. Intensive consulting discussions can be prepared for and resolved more quickly. This is service that inspires!
INTELLIGENT APPOINTMENT ALLOCATION ON YOUR WEBSITE
APPOINTMENT MANAGEMENT WITH A MOUSE CLICK
Your website is the number one point of contact for customers looking for your service number. Instead of picking up the phone and risk waiting on hold, your customers can easily and directly book a meeting with one of your service agents online. Customer concerns are served promptly and, above all, reliably. In addition to positively impacting customer loyalty, trust and satisfaction, the virtualQ intelligent solution ensures constant utilization of your employees' time!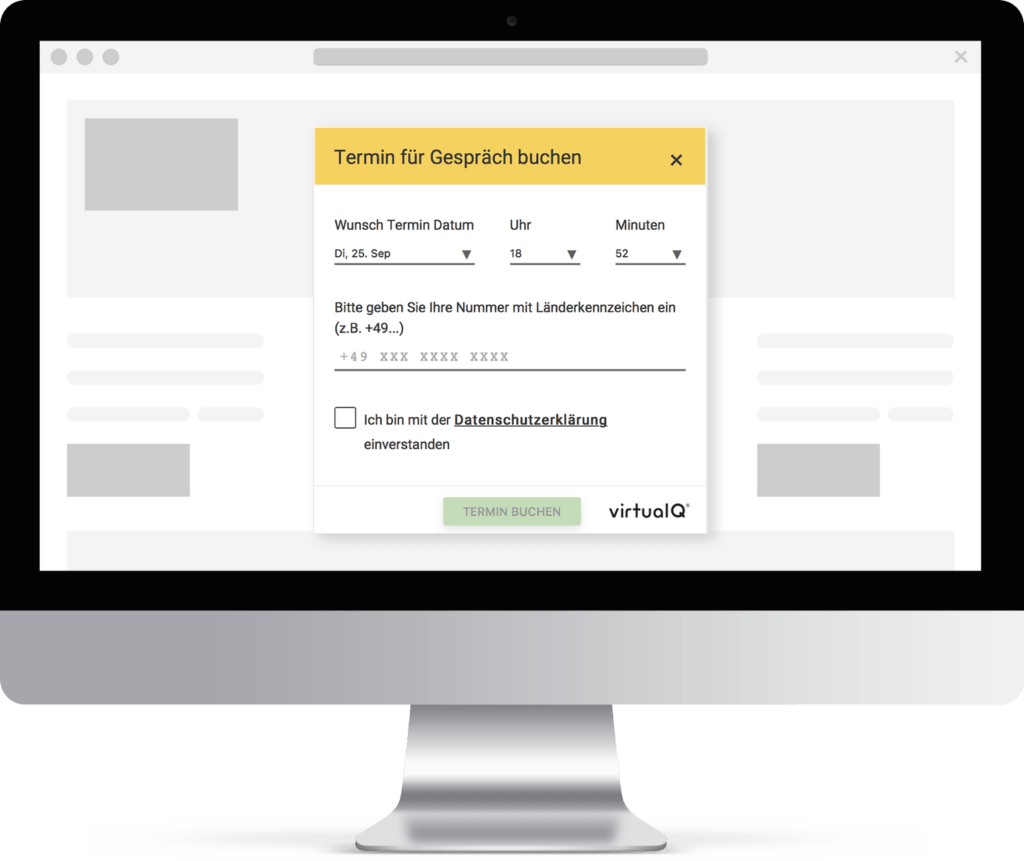 NEW! THE VISUAL IVR – FOR YOUR WEBSITE
PRE-QUALIFYING & APPOINTMENT SCHEDULING FOR A REAL WOW FACTOR!
How does the virtualQ Web IVR work?
Quite simple: With just a single touch of a button, the user is guided step-by-step through the virtualQ Web IVR – from the limitation of the request (1), through the selection of the desired appointment time (2), to inputting their contact details (3).
The advantage: VirtualQ's Web IVR combines the best of web and telecommunications!
We provide a seamless experience for your customers, allowing them to enter in relevant information about their experience and schedule their appointment on your homepage – giving your customers a smooth, user-friendly experience. Your agents will be provided with your customers' information, so your agents can prepare for each individual case, giving them the opportunity to personally and competently respond to each and every one of your customer's unique concerns. Score points with customers and employees alike with the virtualQ Web IVR!
Our Recommendation!
Combine the smart solutions of virtualQ, according to your goals. This ensures the best possible results for you and your service!
VIRTUAL QUEUEING – THE
VIRTUAL WAITING SERVICE
THE INTELLIGENT WAITING SERVICE SAVES
YOUR CALLERS FROM WAITING
If the expected waiting time in your service center is too long, we take the caller's place in the queue and inform them when it's their turn. You immediately see the benefits: higher levels of customer satisfaction and lower abandonment rates; higher service levels and fewer channel hoppers.
The intelligent callback service is available as a multi-channel solution for telephony (IVR), web and app. Offer your customers an integrated and, above all, flawless service experience across all channels.
Best Practice Cases &
Service Trends
Concentrated service experience in white paper form – compact and clearly organised!
FIND A SELECTION OF OUR SATISFIED CUSTOMERS